Indian girl born with eight limbs stable
BANGALORE, India, Saturday (AFP) -

A two-year-old Indian girl separated from her conjoined twin was doing well today after regaining consciousness for the first time after a gruelling 27 hours of surgery. Lakshmi, who had been born with eight limbs, was under observation at the intensive care unit of Sparsh Hospital in this southern Indian city where doctors completed the surgery Wednesday.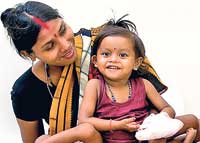 This handout picture shows Indian girl Lakshmi, who was born with eight limbs sitting on her mother Poonam's lap at a hospital in Bangalore. AFP
"Lakshmi is in satisfactory condition and all her parameters are within normal limits," said T. Ramesh, the hospital spokesman. Chief paediatric surgeon Sharan Patil, who led the team of 36 medics that performed the surgery -- the first of its kind in India -- said that the little girl was "stable."She regained consciousness on Friday and was in good spirits, able to open her eyes and move her fingers and toes slowly, Patil said earlier.
Yesterday afternoon, doctors took her off the ventilator to which she had been attached. They plan to shift her from intensive care to a private ward in about two days and put her on a schedule of physiotherapy to strengthen her legs and teach her how to walk. Prior to surgery doctors gave Lakshmi an 80 percent chance of surviving the procedure.
Her parents, who are from a remote district in the eastern Bihar state, were allowed to spend about 15 minutes with her on two occasions on Friday and were happy to see her conscious and recovering from the surgery, said the doctor. The girl, born with four arms and four legs, had the extra limbs removed in the operation after having been born fused at the pelvis to a headless "parasitic twin" that stopped developing in the womb.
She had absorbed the organs and body parts of the undeveloped foetus, a condition that occurs once in 50,000 conjoined twin births, requiring the rare, risky operation. Doctors said the girl would have been unlikely to live into her teens with her condition.
Lakshmi was brought to Bangalore by her parents Shambhu, a manual labourer, and Poonam, for the surgery. The hospital bore the cost of the operation, estimated at 2.4 million rupees (about 60,000 dollars).